Aloha Kia continues to set records and raise the bar in the automotive industry. They set​ new car sales records in July despite little to no inventory, supply chain challenges, and pandemic issues. And they did it all while providing all employees skill and career training from the College of Automotive Management.
"I'm so impressed," says Eric Andersen, President of the College of Automotive Management. "I visited the stores in July and there were literally no new cars on the ground. Nonetheless, the Aloha Kia team, led by Bill Van Den Hurk and Russell Wong (COO), sold several hundred new Kia vehicles during the month. They have really become masters of the remote sale. They understand their banks, lending options, their products, their customers, and their community."
Investing in employee satisfaction and success by providing highly-rated skill development training
All Aloha Kia employees are automatically enrolled in Professional Sales Training, Sales Manager Desking and F&I Management Training courses offered online by the College of Automotive Management once hired. The training continues daily for a year, after which employees have full access to their digital library while receiving updated content as it is released. Every sales, Desking, and F&I process taught by the College is equally effective for in-person and remote selling. This provides every customer-facing employee with the skills needed to build their own book of business within the dealership. Employees are taught how to build their network with business relationship building skills.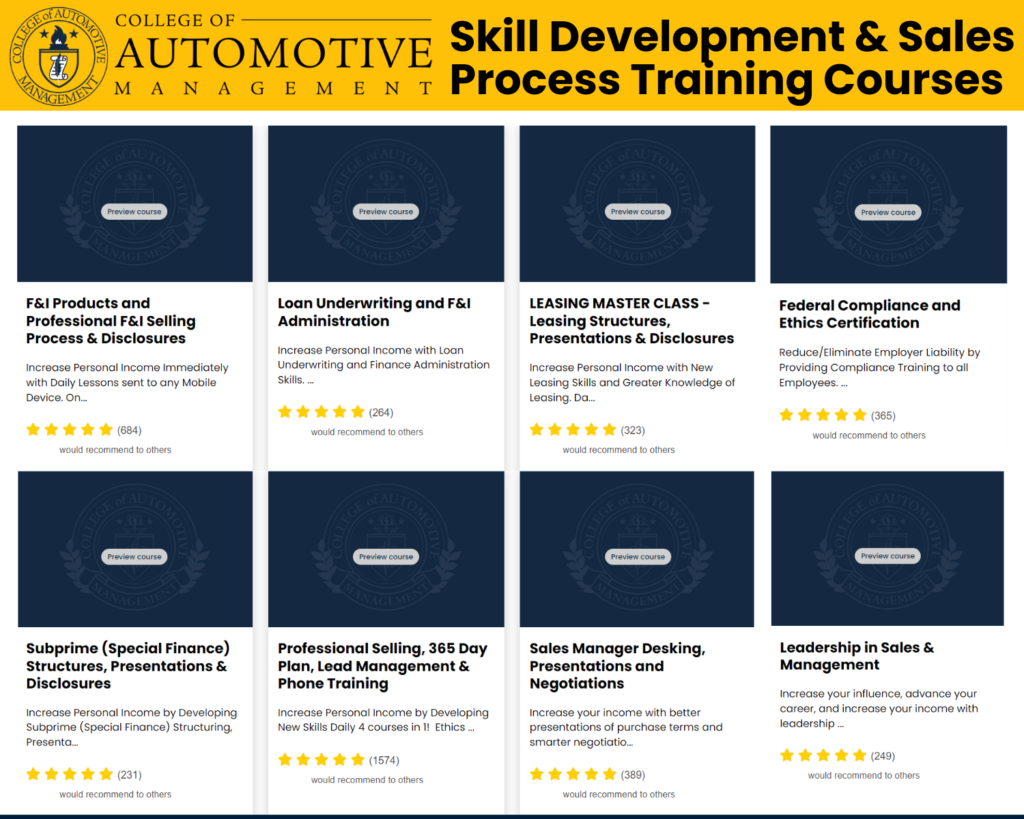 "We are in our seventh year of providing all customer facing employees with College level automotive career training from the College of Automotive Management," says Bill Van Den Hurk, Owner of Aloha Kia Auto Group. "The College provides relevant and custom content regarding our sales processes and the products we sell. We begin with robust Compliance and Ethics training, testing, and certification. Then once the rules and our culture of ethics and compliance are established and all new employees agree with them, we transition them to the sales teams. Their skill development training continues daily while they work in those positions. They learn such things as phone skills, lead management skills, sales process, remote selling, deal structuring, customer service, leadership skills and more every day. Each employee becomes stronger daily and they are more enthusiastic because they are constantly learning something new about their career. Cross training is included so everyone knows how their part impacts the whole of the process. During the pandemic, we decided to keep all staff and their incomes intact, along with their training, and that decision has proven to pay off. It really helped support the communities in which the staff of our six dealerships live. Investing in our own team is a pretty easy decision to make these days, and the College of Automotive Management career training is one of the ways we do that."
A perfect combination: Highly-rated training on an intuitive delivery platform is ideal for this successful dealer group
The College of Automotive Management provides College level career training for dealerships, finance companies, and F&I agencies. In addition to F&I Sales process training, professional sales and sales manager desking courses, the college offers comprehensive courses for subprime training, compliance certification, comprehensive lease training, and other high-level automotive retailing and leadership skill sets.
The training content is delivered through a SOAR LMSi platform which is white-labeled to the company or dealership. The content provided by the College comes pre-loaded on the dealership's platform. A variety of assessment tools are built in so managers can easily verify that employees understood, retained and agreed to the concepts they learned. In addition, the platform provides a number of features through which companies can pre-screen job applicants, streamline their onboarding processes, and create their own internal training content. The platform is designed with tools to help managers maintain an essential personal touch throughout all content. Ultimately, these tools have shown an improvement in employee satisfaction and retention.
Bill Van Den Hurk is the former President of the Hawaii Dealer Association. Aloha Kia is one of the nation's top Kia dealership franchise groups. They have seven locations throughout the Hawaiian Islands, including Hilo, Kailua-Kona, Honolulu, Waipahu, Kaneohe, Kahului and Lihue.
For more information about College of Automotive Management visit https://collegeofautomotive.com/.
To learn more about Aloha Kia, visit https://www.alohakia.com/.
To get a free trial of your own white-labeled SOAR LMSi platform, visit https://www.soarlmsi.com/.