May of 2021.
Tom has been a professional sales consultant at
Gator Ford
in Seffner, Florida since 2016. He contacted the College of Automotive Management seeking
Finance Manager Training
to round out his sales skills. Like many other automotive sales professionals and managers, he wanted to learn all aspects of Finance so that he could be a top producer at his dealership. His goal was to understand all aspects of how sales and finance work together so he could speak more intelligently with his customers and provide them better service. Hear Tom share more about his experience in this short video:
An Online Search for Finance Manager Training That Resulted in Greater Career Success
Tom found the College after searching for an online F&I training program that teaches all aspects of the job description. He wanted a certification that included
Leasing Structures
,
Special Finance
,
Loan Underwriting
,
Federal compliance and ethics
,
menu selling and a highly effective process
for working with customers. He dove into his training, finishing all aspects of it in less than 10 weeks. Shortly thereafter, he provided the College with a letter from his manager verifying his increased success following his training. His improvements were so dramatic that he met all the criteria for a Triple Master Certification on his diploma!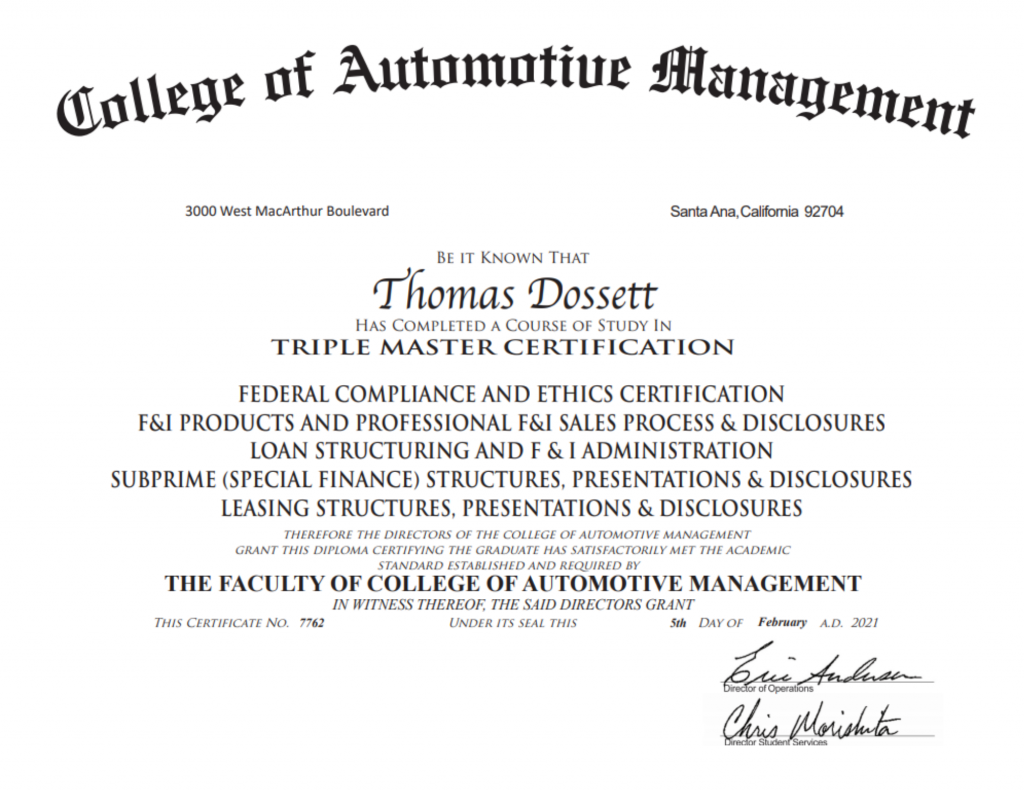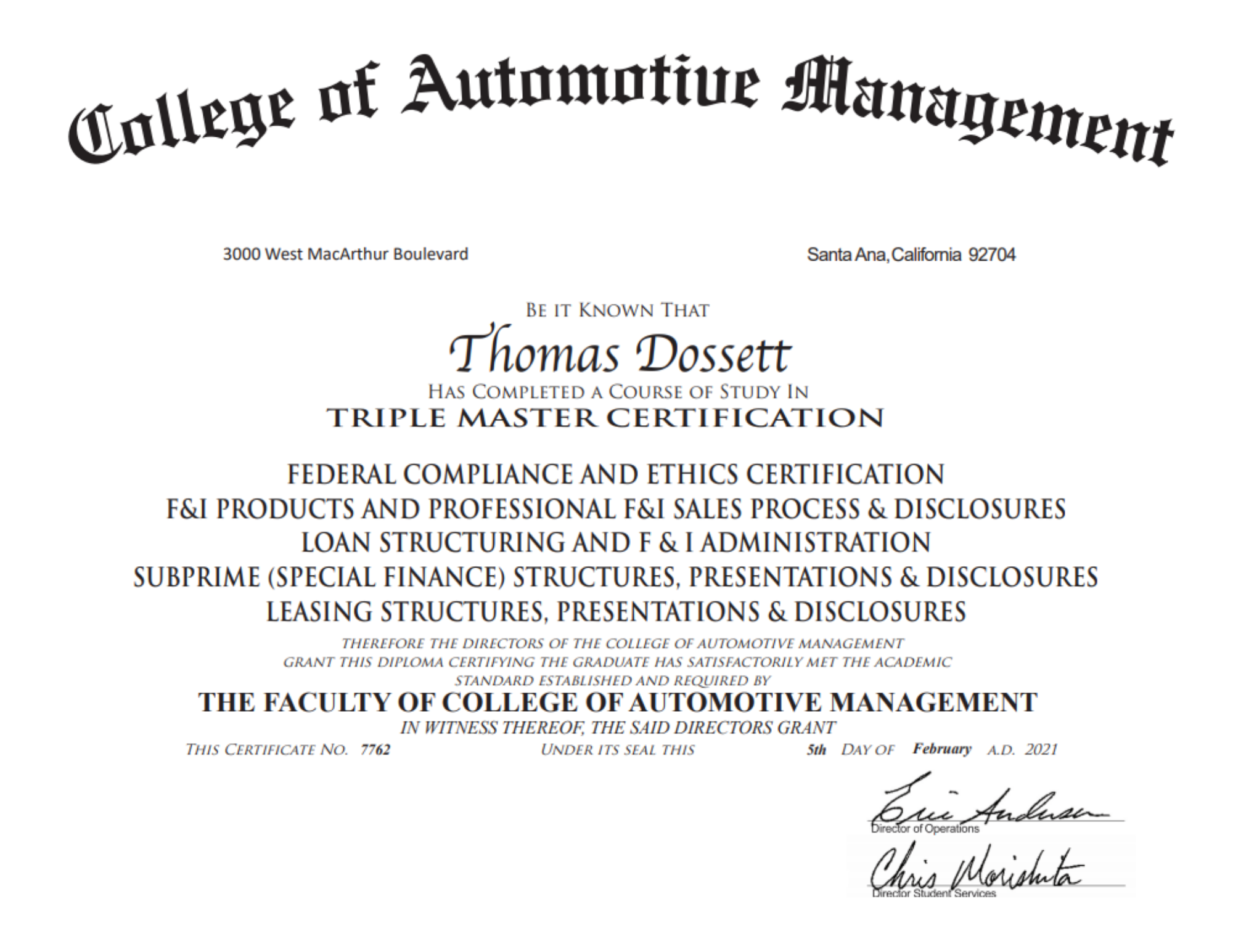 Graduates of CAM's training programs can earn a Master Certification on their diplomas if they meet any one of the following criteria: 1. Increase their PVR $200/unit or more over a prior 90-day baseline average 2. Increase their unit volume by 4 units per month or more over a prior 90-day baseline average 3. Bring in 4 new referrals from their own efforts during a 60-day period. A Triple Master Certification is awarded when all three criteria are met within a 90-day period.
A Greater Understanding Helps Educate Customers
Tom is a man who seeks excellence, and he blew away his previous 90-day averages. He increased his PVR by over 20% (from $4,400 to over $5,700/unit) and increased his volume by six units per month (from eight to fourteen). Then he brought in seven of his own personal customers in a 90-day period.
"Knowing more of the picture really helped me,"
says Tom.
"Most people only understand their lane in the highway. So as long as I can understand more of the process and what goes on with it, it helps me when I'm wording things to customers."
Tom appreciated the full F&I process taught by the College of Automotive Management, citing that it helped him better understand the flow of how everything works together.
"This course is very helpful to understanding why things are done the way they are. Too often, we have to bear the bad news [to customers] without understanding why. I can now explain why we have to look at different lenders and how the process works,"
says Tom.
"Since we're a lower-volume dealership, it's especially important to keep customers happy and this allowed me to do that even better."
A Specialized Clientele
Gator Ford is a commercial vehicle center. They provide vans, trucks, SUVs, commercial vehicles and high-end Ford Trucks primarily to small and medium sized business owners. They also serve ranchers who need work trucks. Gator Ford is part of the larger Morgan Automotive Group based out of Tampa Bay, which was founded in 2004 by Larry C. Miller and his son, Brett.
According to his manager, Tom Dossett is a top performer not only at Gator Ford, but is among the top performers in the entire Morgan Automotive Group. The group consists of 46 retail locations across the state of Florida. Their dealerships are spread across Tampa Bay, Ocala/Gainsville, Lake City, Orlando, Sarasota, Fort Myers/Naples, Jacksonville, West Palm Beach Fort Pierce and Fort Lauderdale. We are so proud of you, Tom! Congratulations on your success and here's to a successful career providing top-notch service to your highly valued customers! Learn more about the
Morgan Automotive Group HERE
.
Click here
to visit Tom at
Gator Ford
in the Tampa Bay area. To learn how you can bring the College of Automotive Management's top-rated
training programs to your dealership
and train all your staff online daily,
click here
.