Many automotive companies are feeling the pressure as amendments to the FTC Safeguards Rule go into effect on December 9th. But even though time is dwindling, it's not too late for companies that are behind or haven't even started yet. According to the FTC, the purpose of these updated standards is to ensure the security of non-public customer information.
In an effort to help automotive companies adequately address these new standards, The College of Automotive Management (CAM) has partnered with Ignite Consulting Partners to provide the ideal time and money-saving solution.
Ignite is a consumer finance compliance company serving auto dealers and lenders nationwide, specializing in the BHPH market. They have developed a collection of Safeguards policies, procedures, forms, and other documents needed to comply with the amended rule. These resources can help automotive companies save weeks of critical time as they work to meet the requirements. Ignite's "THE WORKS" package has the core resources automotive companies need to jumpstart their project before the December 9th deadline. Take a look at the valuable elements that are included: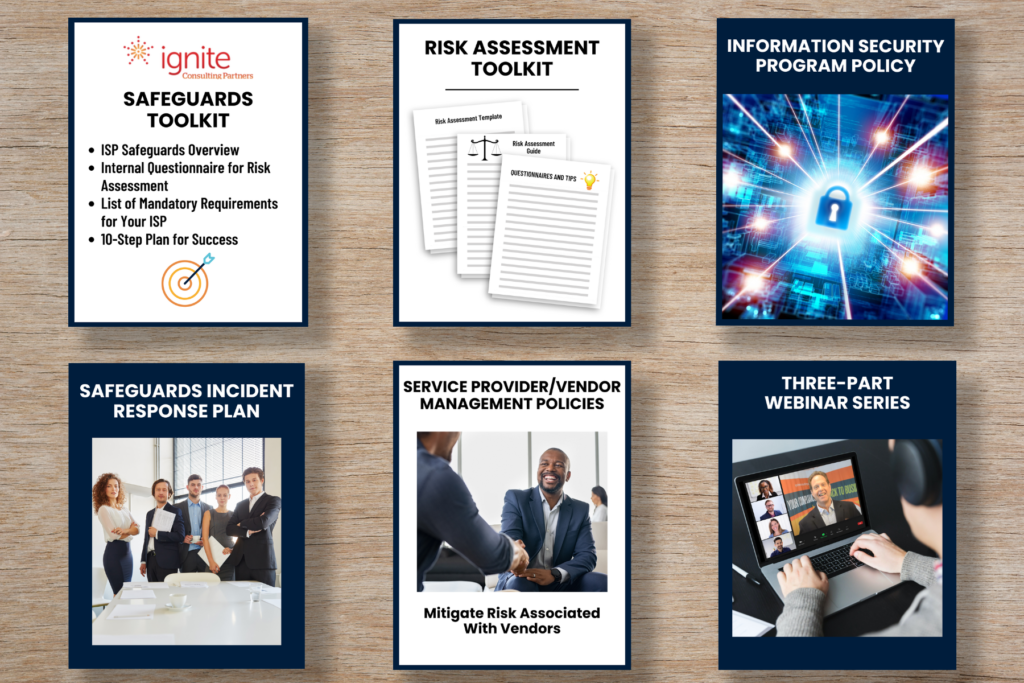 IGNITE'S ORIGINAL FTC SAFEGUARDS RULE TOOLKIT:
Information Security Program (ISP) Safeguards Overview
10-Step Plan for Success
Internal Questionnaire for Risk Assessment
List of Mandatory Requirements for your ISP
RISK ASSESSMENT MODULE
The FTC says the following: "You can't formulate an effective information security program until you know what information you have and where it's stored. After completing that inventory, conduct an assessment to determine foreseeable risks and threats – internal and external – to the security, confidentiality, and integrity of customer information. Among other things, your risk assessment must be written and must include criteria for evaluating those risks and threats."
That's why "The Works" contains a risk assessment outline with questionnaires, tips, and reminder lists to help compliance teams get through the process. This will help companies ensure that they are accurately and thoroughly reviewing all of their potential risk points. By doing this, businesses can target the areas that need it most!
INFORMATION SECURITY PROGRAM (ISP) MODULE
The FTC says that an "Information security program means the administrative, technical, or physical safeguards you use to access, collect, distribute, process, protect, store, use, transmit, dispose of, or otherwise handle customer information."
In other words, a written ISP is a major requirement of the new rule. But it's also one of the toughest documents for companies to prepare. So ignite has developed a document, nearly 70-pages in length, to offer a compliant approach to this:
Requirements Listing for Your Safeguards ISP
Encryption Policy
Email Policy
Mobile Device Policy
Data Retention Policy
Policy for Employees Working Remotely
Physical Security Policy
Incident Response Policy
…and much more!
FTC SAFEGUARDS INCIDENT RESPONSE PLAN
This is another written plan required by the new Safeguards rule. In "The Works," Ignite provides a practical outline to the Incident Response Plan. It organizes those requirements into a single document, from defining the plan's goals to documenting the postmortem after an incident. It also helps establish a team of initial responders to an incident with defined roles, responsibilities, and means of communication.

SERVICE PROVIDER/VENDOR MANAGEMENT MODULE
The Service Provider/Vendor Management module is an important addition to "The Works." Based on years of experience helping automotive companies manage third party relations, this document is essential to ensure that external risks are managed on an ongoing basis. This guidance is designed to be both effective and practical, and is customizable for businesses of varying sizes and complexities. This module includes:
Safeguards Letter to Service Providers
Service Provider Questionnaire
Safeguards Service Provider Contract Amendment
Service Provider/Vendor Management Policy
LIVE Q&A WEBINARS TO ANSWER QUESTIONS ABOUT THE FTC SAFEGUARDS RULE
Customers who purchase "THE WORKS" package will also be automatically enrolled in three-part Safeguards Webinar Series that Ignite is hosting through December. This will give business owners and managers a chance to ask the compliance experts their questions!
This package represents thousands of dollars of time and value, all of which is done properly to meet the standard. Automotive companies can save themselves weeks of work by taking advantage of this one of a kind package ONLINE now for just $999.
A BONUS FOR COMPLIANCE OFFICERS OR OTHER DESIGNEES
In addition to all of these incredible tools, the College of Automotive Management is providing an additional bonus. When companies purchase "THE WORKS" through CAM, they will get to enroll the employee of their choice in CAM's highly-rated Compliance and Ethics Certification Course, absolutely free! This is a remarkable opportunity for these companies to quickly train their compliance officers or designees online, on demand. This course is very comprehensive and the topics covered in it are all compliant with the FTC Safeguards rule. Take a look at some comments from a few graduates of this course:
"This course is excellent, best compliance training we've had. The two that standout that I feel were inferior to yours is Zurich and the AFIP certification course. This course helps build trust."
– Mike Schwartz, General Manager, Galpin Premier Automotive Group
"I have been involved with AFIP and JMA certification and find this certification the best in its delivery and presentation with content being better and increased retention of material. Appropriate for all dealership employees."
– Brian Murphy (GM of F&I Operations), Sullivan Automotive Group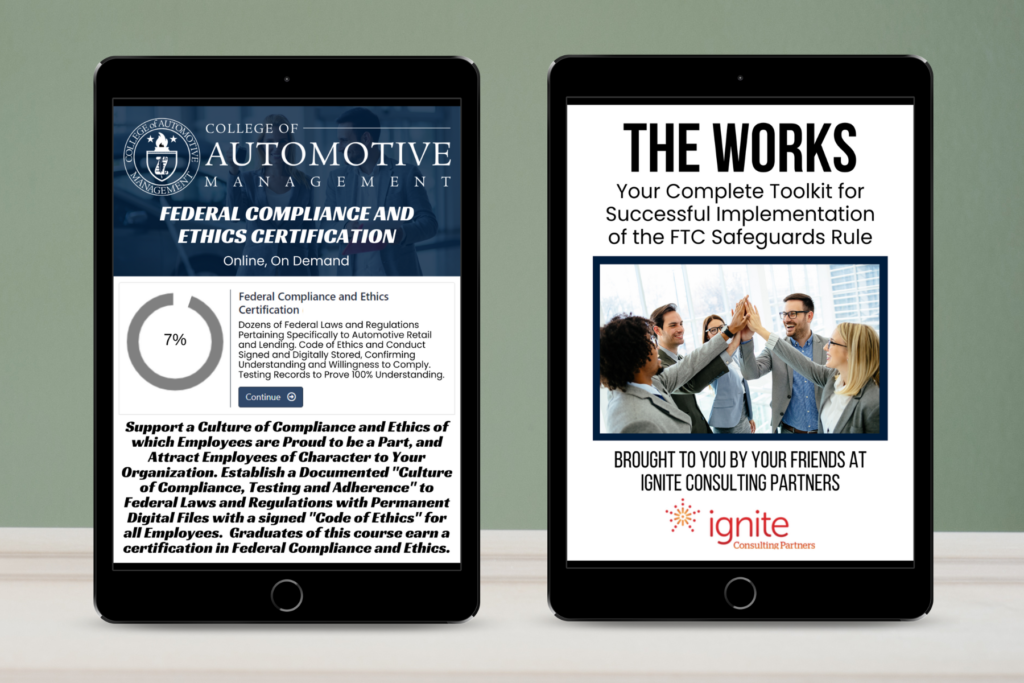 Don't wait to get your toolkit and jumpstart your FTC Safeguards Rule Compliance project! There is still time to be ahead of the curve by the December 9th deadline.
Get "THE WORKS" package with CAM's Compliance & Ethics Certification Course today for just $999!