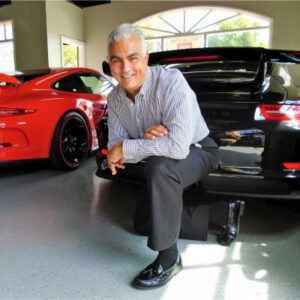 Leadership Spotlight – Joe Allis
Joe Allis is the General Manager of the coolest and likely one of the largest new Porsche dealers in the US, Santa Clarita Porsche. We're proud to share his success story in this leadership spotlight!
You might be wondering why a successful automotive professional at the highest level of the retail auto industry would take the time to complete courses at the College of Automotive Management. The answer is simple – good leaders never stop learning, growing and improving, and they align themselves with the best tools and resources to continually sharpen themselves!
Joe's excitement for the car business and enthusiasm for helping others be all they can be are part of the motivation that causes Joe to continually strive for more.
A State-of-the-Art Experience
The new Porsche dealership in Santa Clarita, part of the prestigious Galpin Motors family of dealerships, is state of the art. It features the Amazing Wunderground Museum, a full-service Boxenstopp restaurant within the facility, and a Porsche design boutique with all the fun stuff to "Galpinize" your next Porsche!
In preparation for the new dealership grand opening and staffing needs, this remarkable 25-year automotive management veteran took the time to complete all eight online courses offered by the  College of Automotive Management. This led him to become certified in all of the following disciplines. Here are Joe's comments and insights about the course content and his experience:
The Industry's Highest-Rated Automotive Career Training Courses
"I rate Compliance and Ethics excellent. This Compliance and Ethics course have enlightened me, with 25 years of experience, to things that I sincerely did not know. It is a must for the dedicated sales professional.  Any education is powerful. Education that is as contemporary as this Compliance and Ethics course is exponentially more powerful."
"I rate the Phone Training excellent. I would highly recommend this course for both the rookie and veteran salesperson. For the rookie, there is invaluable information to start off a career correctly. For the veteran, there is a wealth of information to work with, knowing what HASN'T worked for them in the past.  The course has given me a very different perspective to my approach at sales coaching for my team."
"I rate Professional Sales – Best Practices excellent. Professional Sales, Best Practices is a basic but extremely effective thought-provoking tool for a professional salesperson or someone who is determined to be. Nothing is too obvious that does not need to be pondered. For the experienced, this is a refresher, for the novice, this is a bible.  Professional Sales, Best Practices is a series of carefully presented steps to a brilliant career."
"I rate the Professional Desking/Negotiating course excellent, in my opinion, simply because of the totality of the content. It leaves no questions in the mind of the student and creates a wonderful pathway.  The benefit of the course, if followed closely will answer many of the questions we face in our positions. I am still amazed at how well the steps are laid out, and easy to follow.  The course is designed within a very high set of ethical and moral standards. It is a veritable road map to a quality transaction, that will create a higher-level experience (which will increase CSI), lay the groundwork for a more profitable and valuable exchange, that will clearly differentiate Galpin from its competitors.  The scripts within this course are without question so well put together, that I wouldn't change them. At the risk of sounding staged, I will urge our salespeople to memorize them and flavor them with their own language."
"I rate the Leasing Structures, Presentations & Disclosures course excellent! With 30 years of experience, I thought I knew all there was to know about leasing…WOW!  Even though, when I first started all leases were done longhand, I cannot believe what I didn't know!  I wish, I had this tool available to me when I was first starting out. The educational value of this section is almost immeasurable. All the nomenclature and calculations could easily make the difference between confidence and selling from strength, and passive sales behavior. Followed correctly, the student of these modules will make more sales and maintain more gross simply because KNOWLEDGE is POWER. Have the power, take control, and you will be irresistible to your clients."
"I rate The College's Proprietary F&I Sales Process course excellent. Excellent is the only description I can be honest in stating. I have experienced other "boot camp" style training where ALL of the emphasis is on profit, deception, intimidation, and selling. Never about the mutuality of what we do.  The 9-step approach to an incredibly sensitive business is logical and reasonable. I've never seen any method so well thought out, so as to ease not only the client but the dealer representative!  It is a better approach, in that it's not simply about profit for the store, it's about sharing all of your concerns they may encounter and how to overcome them, with the client."
"I rate Loan Structuring and F&I Administration excellent.  F&I admin course brings to light things that you may know, but are not at the top of mind when taking and submitting an app. This is a series of great practices that should be reviewed regularly to keep them in the forefront of your mind. It's excellent, BUT, only excellent for the ones smart enough to pay attention and make them part of a routine.  I am not directly involved with finance, but I have reviewed the course topics. I can see where a better understanding will provide a much better experience for the client as well as the decision-making process for the bank, better."
Subprime Structures, Presentations, and Disclosures:
"To rate Subprime Structures, Presentations, and Disclosures "Excellent" would be like saying the Grand Canyon is a big hole in the earth. In my opinion, no one in this industry can call themselves professional, without the disciplines included in this course. I may have thought I was well versed and knowledgeable in all things pertaining to Special Finance, this course peels the onion back 5 layers passed where my thought process was.  It's amazing how true and applicable the Best Practices included in this course are. We can begin making more profit, earning better CSI, and more loyal clients immediately. This course is a "MUST HAVE" for the auto sales person's tool bag. Galpin's insight into training of this kind is simply unmatched by other dealers. I am a better manager and mentor to the people that turn to me for guidance as a result of a better understanding of Subprime Structures, Presentations, and Disclosures."
"Leadership in Sales & Management is excellent for the new manager, the seasoned manager, and the prospective manager. Experiencing the course has changed my mind in how managers need to be trained. I'm a veteran of this very tough business. My original thought was, "what can I possibly learn? I know everything there is to know!" Leadership in Sales Management gets the student to think. Drawing from inside ourselves, the education evoked, becomes indelible. Because it stays in the conscious mind, it is readily available for use as if it was second nature. As an eternal skeptic of everything, even I have made more deals, shortened my negotiations process, and created wonderful relationships with clients. I have actually gone back to individual lessons, printed them out, and used them to train my team. This is a priceless collection of lessons for the businessman, the parent, and the game-changer.  I have already made so many changes to my own personal management technique. While I am an advocate of so many of the principles and doctrines of this course already, the details of real leadership have been re-defined in my mind."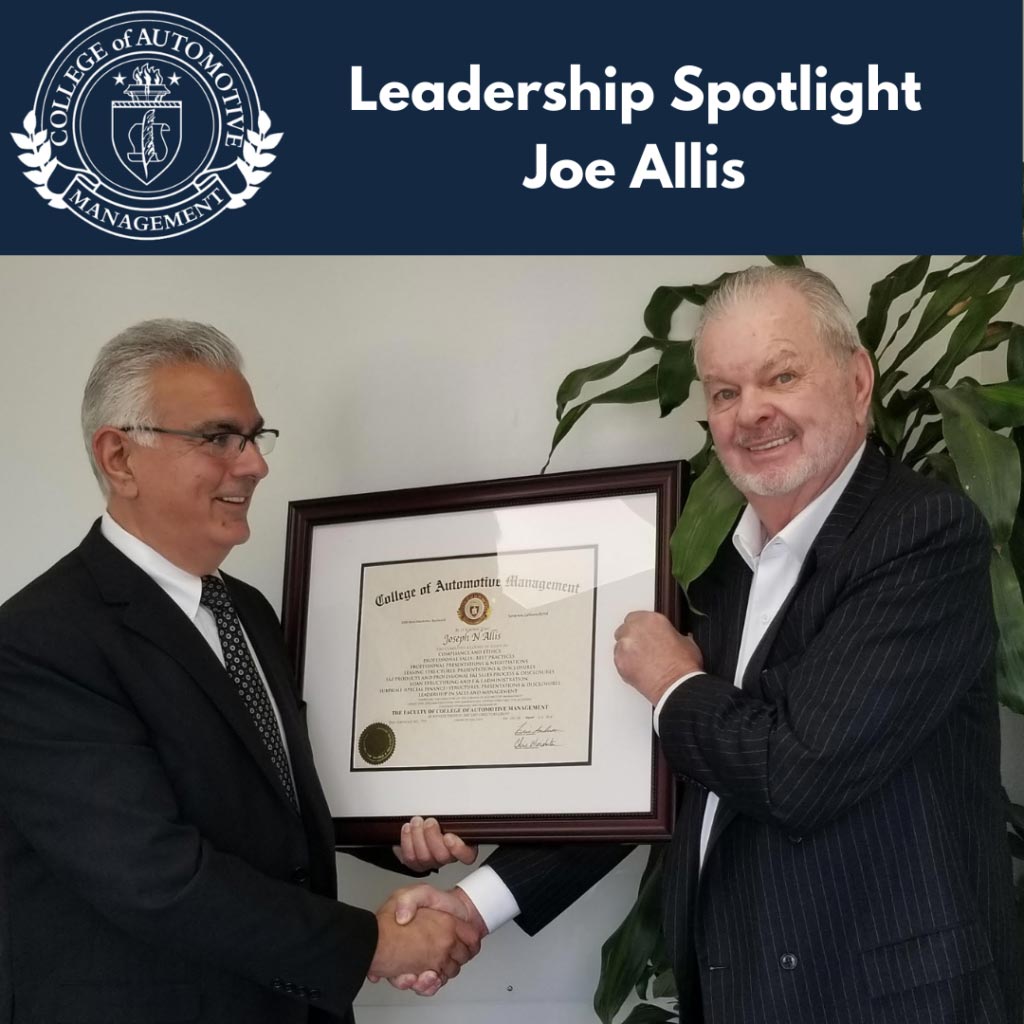 In Joe's case, the dealership owners at Galpin offered to pay for the training for Joe and hundreds of Galpin employees for all the reasons Joe mentions in His course comments. Galpin Ford is the number one Ford dealership in the World 28 years running, and nearly every Galpin store is a Nationwide top 10. This is an organization that understands how to achieve and maintain success!
Joe is not slowing down.  He will be leading and raising up leaders in this industry for many years to come! We look forward to supporting him and his staff develop good skills and habits in Sales, Sales Management, and F&I Management every step of the way. And we will do it with 100% legal compliance and processes that produce happy customers 100% of the time!
"This experience has been an amazing one. I am profoundly grateful to the Boeckmann family, executive management, and the Galpin Organization for this wonderful gift. The lessons are not only business lessons, they are life lessons."  – Joe "Porsche Passion" Allis