The College of Automotive Management (CAM) is proud to announce that Insignia Group has agreed to provide training curriculum featuring their best-in-class processes for increasing accessory sales at auto dealerships.  Insignia is a leader in automotive accessory selling strategies. With thousands of dealer clients nationwide over the past 15 years and long-term agreements with OEMs (manufacturers) Insignia's expertise and influence in the automotive industry is substantial.
Selling accessories with every vehicle transaction benefits all parties involved.  The dealership enjoys greater profits when customers choose to purchase their accessories from them at the time of sale versus some other retailer after the sale. These profits extend across the sales department, parts department and service department.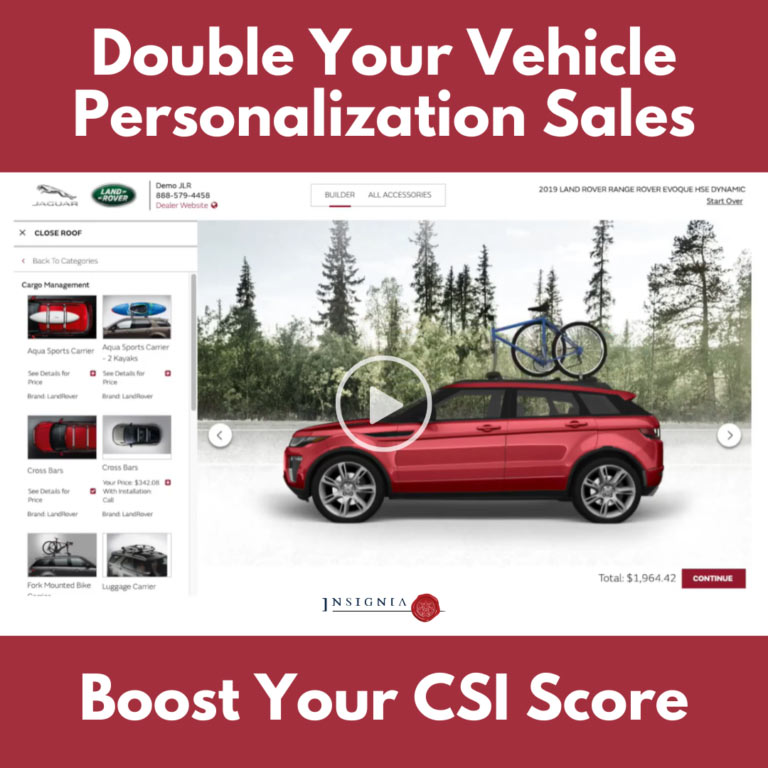 Insignia group has mastered the process of using their patented, state of the art digital catalog to provide customers with visuals of their accessorized vehicle. Salespeople can feature the customer's exact vehicle make, model, color, etc. on screen and then build it out with personalized features and accessories to the customer's preferences. When a customer sees their car with wheels, brush guards, lights, racks, bumpers, and other preferred items, they more easily consider purchasing these items during the sales transaction instead of purchasing them elsewhere after the sale.
To be an expert at the process requires a thorough knowledge of deal structuring and loan underwriting. For example, a salesperson would be most successful with this if they knew the difference between hard adds and soft adds per lender guidelines, as well as the overall dynamics of the sales and F&I process. Graduates of the College of Automotive Management's Sales and Finance Manager training programs learn this, among many other things, and Insignia knows this. Therefore, Insignia Group has determined that the College of Automotive Management is the best place for dealers to find and hire the perfect candidates to execute their best-in-class sales process.
"We prefer employees that are committed to a career in automotive," said David Stringer, CEO of Insignia Group. "Employees who fully understand the retail sales, desking and F&I process at a dealership, and those who have a deep understanding of loan and lease underwriting guidelines help determine the success of accessory sales within our dealer client base.  There is no more target-rich environment than the College of Automotive Management, where many of the students pay for their own career education, to find these committed, qualified candidates for our next company hire.  We can strongly recommend College of Automotive Management to our dealer clients for the same reason."
A Win-Win Partnership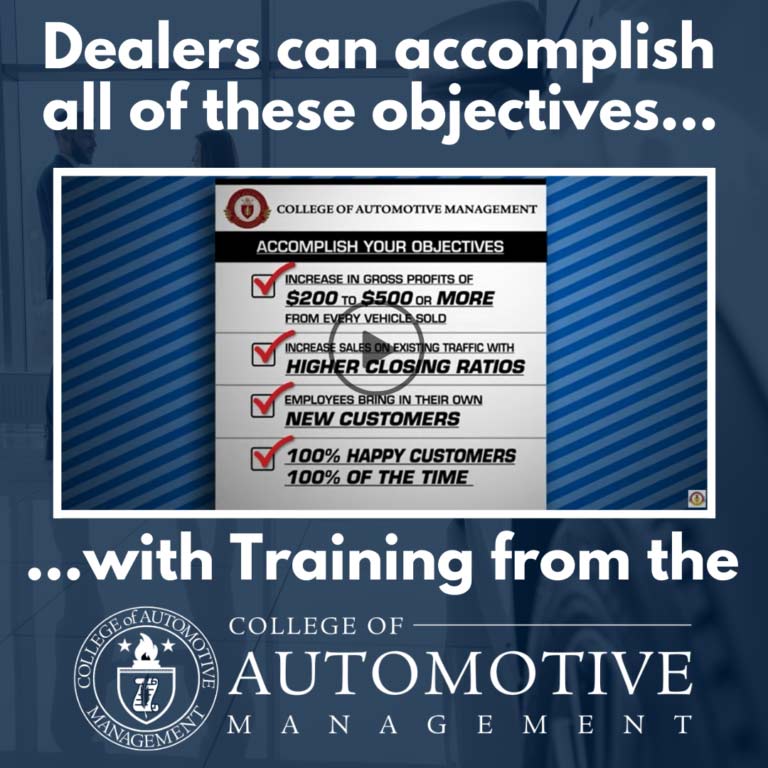 "We are thrilled to have Insignia donating their best-in-class sales process training, and to feature their digital catalog technology tool to all College of Automotive Management students nationwide," said Eric Andersen, President of the College of Automotive Management.
"Our students and their employers will greatly benefit from this thorough but concise education provided by Insignia.  After analyzing their process and training content, it is crystal clear that dealership employee incomes will increase, profits will increase, CSI will increase, and relationships that produce referral business will increase at every dealership that employs their methods.  There is absolutely zero erosion of front-end gross profit or F&I profits with their methods, and total gross profit per vehicle is increased.  It is a perfect process.  This is a win/win for all parties involved."
More about the College of Automotive Management
The College of Automotive Management was established in 1992 and has a proven track record of success. In fact, it is the world's premier Automotive Management and Lending School. The College provides a unique brand of "Automotive Career Training" (ACT) that focuses on three primary principles:
  Ethics
  Loving customers
  Mastering compliant processes
Since its brick-and-mortar inception, the founders have converted all of the original content to be web-based. Today, it is the only 100% ONLINE automotive vocational career training school offering a number of additional benefits to students. Firstly, CAM's courses are self-paced and can be accessed anytime from any device anywhere in the world. Therefore, they are ideal for people who work full-time and need complete flexibility. Moreover, their training comes with one year of coaching so students have full access to positive support and accountability. Finally, the College offers proprietary sales and F&I processes that have proven repeatedly to be highly effective and successful.
Highly-Rated Courses With Real-World Examples
With over 5,000 completed online courses since 2017, their online programs are now the highest-rated in the automotive industry. Detailed job descriptions and process training categories include:
    Service advisor sales career education
For more information or to contact the College of Automotive Management visit https://www.collegeofautomotive.com/
More about Insignia Group
Insignia Group provides a unique digital catalog technology solution to help automotive salespeople and managers sell more accessories by "personalizing" customer vehicles online visually prior to delivery.   Their software is backed by a US Patent.   Dealerships can increase profits per delivery as well as their CSI scores by simply incorporating the Insignia Group technology and recommended best practices into their sales process.
To learn more about Insignia Group, visit https://www.insigniagroup.com/
To learn more about why employers prefer to hire CAM grads, CLICK HERE.