Learn to identify the 13 most common F&I profit leaks at any dealership and implement proven solutions
Proprietary F&I Process designed to handle ANY F&I situation like a PRO including: Customers in a Hurry, Cash Paying Customers, and Short Term Lease Customers!
An F&I Process that ensures 100% VERIFIED Sales and F&I Department CSI 100% of the time BEFORE customers leave the dealership
An F&I Process that ensures all administrative details are complete before the customer leaves to reduce contracts in transit (CIT's) and costly rewrites (including loan underwriting, stipulation reviews, insurance/income/residence verifications, and required federal disclosures)
Extensive product knowledge training on popular F&I products to increase value in the F&I manager's mind
Pricing policies that are compliant and designed to achieve 50% or higher penetration on all F&I products to eligible customers and avoid unfair business practices
Interactive "Role Play" events and multiple video presentation reviews to develop new skills
How/Why to address Credit Application, Credit Bureau and Loan Underwriting Abnormalities
Contracts in Transit (CIT) Management
Loan Underwriting and Lending Guideline Interpretation for A/B Paper
Credit Bureau Analysis and Interpretation by Lenders
Common DMV Forms and Federal Disclosure Documents
Various Interest Rate and Rate Participation Calculation Methods Used by Lenders
Loan Packaging for Fast Funding
Lender Selection, Relations and F&I Director Skill Development
Advanced Subprime Lender Guideline Interpretation Skills - Choose the Best Lender for Every Situation
The Reverse Sales Process - Lining Up Customers for the Right Vehicles From the Start
100% CSI with All Subprime Customers to Obtain Unprecedented Referrals from Friends
Skills for Obtaining and Interpreting Proof of Income, Proof of Residence, Time on Job and Residence Verifications, Tax Return Interpretations used by Lenders prior to Final Delivery of Vehicle
Better Manage Bankruptcy, Charge-offs, Judgements, First Time Buyers, Self Employed, and Other Loan Underwriting Challenges that Provide Exceptional Profit and Relationship Opportunities!
Faster Funding of Subprime Loans for Maximum Cash Flow
Maximize Lease Penetration at Your Dealership
Ensure More Repeat Business (Future Lease Return/Resell Strategy)
Achieve Higher Profits Per Transaction by Providing More Options (Lease vs. Buy and One Pay Lease vs. Cash Purchase Options)
Leasing Terminologies, Lease Calculations
Lease Presentations, Required Federal Disclosures including Regulation M, Common Objections and Responses to Leasing
Leasing Department Strategies
Learn not to be just an F&I Manager, but rather how to be a Record-Setting F&I Manager/Director Master!
Reduce/Eliminate Employer Liability by Providing Compliance Training to all Employees.
Dozens of Federal Laws and Regulations Pertaining Specifically to Automotive Retail and Lending.
Comprehensive Online Compliance Training for Salespeople, Management, and F&I Managers.
Establish a Documented "Culture of Compliance, Testing and Adherence" to Federal Laws and Regulations with Permanent Digital Files for all Employees.
Code of Ethics and Conduct Signed and Digitally Stored for Every Employee Confirming Understanding and Willingness to Comply.
Testing Records to Prove 100% Understanding, and Certification for Completion.
Support a Culture of Compliance and Ethics that Employees are Proud to be a Part of and Attract Employees of Character to Your Organization.
Graduates of this course earn certification in Federal Compliance and Ethics Certification
Courses Included
F&I Products and Professional F&I Selling Process & Disclosures ($1,495)
Loan Underwriting and F&I Administration ($695)
LEASING MASTER CLASS - Leasing Structures, Presentations & Disclosures ($795)
Subprime (Special Finance) Structures, Presentations & Disclosures ($1,295)
Professional Selling, 365 Day Plan, Lead Management & Phone Training ($1,495)
Sales Manager Desking, Presentations and Negotiations ($795)
Leadership in Sales & Management ($695)
Federal Compliance and Ethics Certification ($495)

The coveted diploma earned at the College of Automotive Management is respected by dealers nationwide.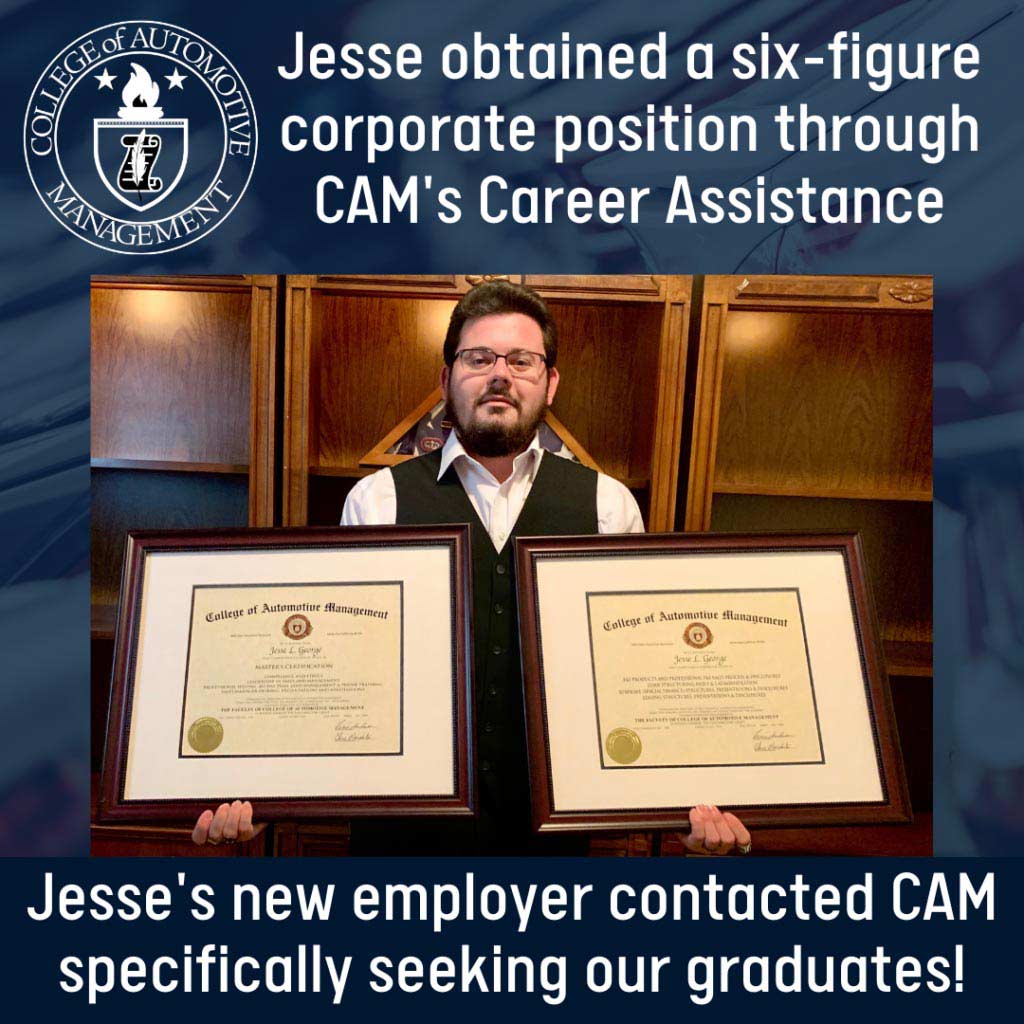 Dealership Management Success
"I was promoted from the sales department after taking ALL of CAM's online training courses and within 90 days I became the #1 F&I Manager throughout our large dealer group (Earnhardt TX)! I maintain a PVR over $2000 and work in a store where many of our customers lease or pay cash (Cadillac). I'm 23 years old. The College changed my life. After becoming the F&I Director at my dealership for a few years I opened up my own used car dealership for highline vehicles – Spady Motors. My lifelong dream."
Derek Spady – Dealer Principal
"I was not employed with a dealer, nor did I have any prior automotive experience (I was a dealer at a casino), when I first enrolled at College of Automotive Management. During my online training, I received employment in F&I at a Land Rover/Jaquar dealership! This course has really made me understand that I need to be honest and truthful in all deals. By taking these courses at the College of Automotive Management I am taking the first step to achieving my passion and goal I set 10 years ago. Thank you College of Automotive Management for making it convenient and fast to learn what my goals are and that my dreams are not that far out of reach!"
Tammy Semon – Finance Manager
"I worked in our family's liquor store prior to attending the College of Automotive Management. After graduating I immediately obtained a position as a Special Finance Manager with one of CAM's employer partners and began earning over six figures a year. From there I advanced my career to F&I Director, Sales Manager and then General Sales Manager. I am currently being groomed by my current employer to be the next General Manager of his dealership. Every opportunity I've obtained in the retail automotive industry is a direct result of my decision to attend the College of Automotive Management."
Majdi Awad, Finance Manager – Kia of Cleveland
"Thanks to the College's Finance Program I have increased my PVR by far, and I'm so excited to say that my income has increased by at least 30%! This course by far is one of the best if not the best I've taken. Every single chapter has different ways to better yourself and to fully understand objections, and also to advise our customers how to protect their investments. If I had to give a ballpark I would say I've increased my PVR by 400-500 per copy, and at times, more. I'm super excited. A big thank you to everyone's contribution!!"
Adrian Bolanos, Finance Manager – Galpin Motors
"I had no sales experience in the auto industry. After taking all 8 online courses provided by the College of Automotive Management I was promoted from the Business Office at my dealership and quickly achieved a PVR of approximately $1500 and become our top producing F&I Manager - group wide (4 KIA stores)."
Michael Morris, F&I Manager
"When I enrolled in the College I was selling 8-9 vehicles a month, and putting $12,000 to $15,000 a month of total gross profit on the books for my dealership in the internet department. Rather than go through the entire course quickly like others have done, I stayed focused on the course content that could help me increase my skills using the phones, email and selling. Within 60 days my income more than doubled from $4,000/mo to more than $9,000/mo. It continued to increase to over $11,500/mo the following month. 12 months later I had put more than $500,000 of total gross profit on the book for my dealership, selling 15-20 cars a month, and made myself well over $100,000 for the year. I was then offered a position at a Lamborghini store due to my sales skills and training where I have been given the opportunity to conduct the entire transaction from beginning to end (sales, desk and F&I) and I Love It! (Newport Beach Lamborghini, CA)."
Jeremy Hagen, Sales Manager – Lamborghini, McLaren & Koenigsegg Newport Beach
"Attending the College of Automotive Management opened up the automotive industry to me. I was immediately hired as a loan rep for an automotive finance company due to my knowledge of loan underwriting and F&I Management as evidenced by my certification at the College. I then went into retail and managed several auto dealerships as a General Sales Manager. I prefer to hire College of Automotive Management trained candidates whenever given the opportunity."
Kevin Kim, General Manager – McKenna Subaru
"Excellent. This course has it all. I started in sales and quickly increased my sales numbers by focusing on loving my customers and trying to be a better friend to my customers instead of trying to sell them something for a commission. While in sales I studied hard and learned the F&I laws, presentations and disclosures and practiced them until I was qualified to "fill in" for F&I during busy times. I excelled in that job function and was quickly promoted to F&I where I continually increased my production through transparent and honest presentations to my customers by focusing on their needs and being fair in our prices. I was then promoted to sales manager where I lead a team of 5 salespeople. By sharing what I have learned with them and implementing what I learned from the leadership and desking courses I have been able to increase my team's production consistently. The College of Automotive Management has put me on a new and better career path. I am 24 years old and very excited about my future in the car industry."
Moe Elfaqir, General Manager – So Cal Motors
Corporate and Lending Success Stories
"I was working in a restaurant living with my grandmother when I found the College. I determined that if I wanted to be successful I had to do what other successful people had done. After graduating from the College I was placed as an F&I manager with an employer partner who preferred CAM grads. They were a high line dealership group with several dealerships in the Southern California Market. I quickly became the top producer in the entire group, and F&I Director at my dealership. After several years of success I took my CAM training, dealership experience, loan underwriting and selling skills to the mortgage industry where I continue to succeed and excel, work from home, control my schedule, and provide an excellent standard of living for my family."
Sean Green, Senior Mortgage Specialist
"At 20 years old I was selling cars struggling to make $2500/mo. After graduating from the College I was given opportunities I would have never otherwise had, starting with a Vice President of Sales position with an Employer Partner of CAM selling loan programs to auto dealerships. It came with a large six figure salary, company car, and other benefits. Then, due to networking with so many dealerships, I came to know where the highest paying positions were in my area, was able to qualify for all of them due to my training, and continually increased my income over the years to seven figures in a year. Learning loan underwriting, legal compliance, contracts, retail sales processes, leadership and the other skills taught by the College allowed me to understand and excel in every opportunity that followed."
Eric Andersen, President – MorningStar Automotive Agency
"I attended the College of Automotive Management way back and with zero experience in the automotive industry I was able to get hired directly as a F&I Manager at a local Ford dealership. What I learned at the college was a springboard into a variety of industries and even to this day I continue to apply the teachings from the sales and finance courses to help others. Reach out and get started now!"
Ken Poblano, Self-Employed
"Everything about my experience with the College has been spectacular. They really practice what they preach, everyone I've spoken to has been extremely helpful and you can tell they care about helping you continue your education. I've seen visible improvements in my own performance at my dealership since I've been enrolled at the College. I highly recommend the courses."
Jesse George, Territory Manager – ACV Auctions
"In this portion of the course on F&I Administration and how to structure a lease, present it and build value, I have had the opportunity to equip myself with the necessary tools and skills to eventually become F&I Director and eventually a Sales Manager at a dealership in the near future. I currently hold the position of F&I Manager and even though I have only been in this position for 14 months the material in this course has really expanded my understanding and view of F&I. Initially I was leery about this course but have come to find as I continue to go through it how excellent and up to date the information is. Because of CAM I have much less stress, a much higher level of customer service, and have had an increase to $2,701 PVR. Now I am going for the "Elite" award recognition at my current dealership (Crown Kia). I would highly recommend this course to my peers in the industry. - - Update: I have worked for several automotive companies providing software and technology products, in addition to F&I training to dealerships where I continue to excel. I love this industry and have so many opportunities because of my training at the College."
Derrick Pettiway, Corporate Representative and Finance Coach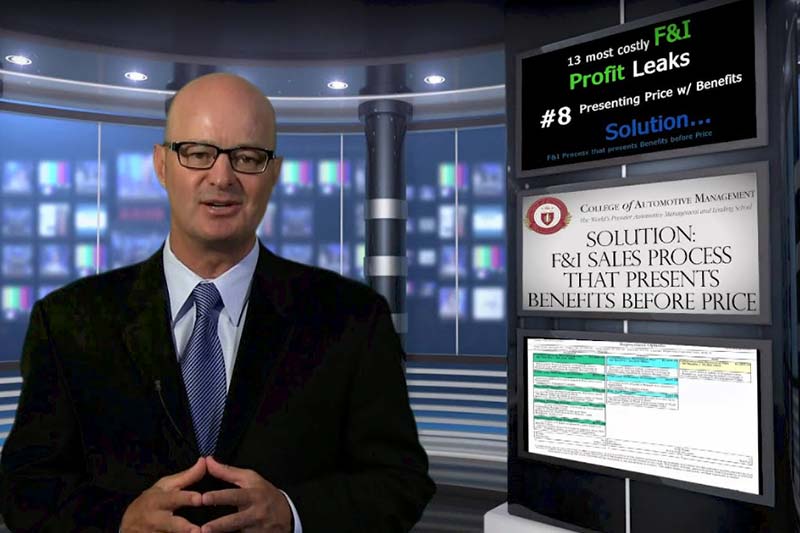 See Payment Options and Terms at Checkout for details.