Includes California Rules and Regulations regarding Automotive Finance, Retail and Advertising.
Reduce/Eliminate Employee and Employer Liability by Providing Compliance Training, Testing and Certification to all Customer-Facing Employees that Have Access to or Handle Sensitive Customer Information, and/or Employees that Present F&I Products or Employees that Quote Payments for Vehicles and/or F&I Products.
Dozens of Federal Laws and Regulations Pertaining Specifically to Automotive Retailing, Financing, Advertising, Used Vehicles, Oral Statements, Customer Privacy and Loan Origination, Including FTC Safeguards Compliance Rules and their Ongoing Updates as they Occur.
Relevant Compliance Training, Testing and Certification by Job Description for Salespeople, Management, and F&I Managers so that Everyone Involved in the Sales Process Understands How Their Actions Affect the Overall Compliance Objectives.
All Training is Self-Paced and Delivered Online, On Demand. This $495 Compliance Course can be Completed in as Little as Four Hours by Most Individuals.
For Employers, Administrators Determine When Employees are Invited to Complete Course Material. Our Proprietary Learning Platform Delivers Daily, Weekly or Monthly Reminders to Train (so Management Doesn't Have To) and Remembers the Last Session Completed by Each Employee at the End of Each Day and Serves up the Next Session to Each Employee by Email, Eliminating the Need to Repeatedly Log In. This Virtually Guarantees that Course Completion Rates are 100%.
All Employee Activity can be Monitored by Management in Real Time from Any Device, Including Mobile. All Employee Activities, Including Time Spent Training, Sessions Completed, Test Scores, Feedback Comments and the Code of Ethics Agreement (Agreement to Comply), are Digitally Time-Stamped and Saved in Each Employee's Digital File in Case of Audit.
Optional Ongoing Monthly or Quarterly Compliance Training with Testing Available to Employers on a Subscription Basis for all Customer-Facing Employees to Meet the Updated FTC Safeguards Requirements.
College of Automotive Management certificates are earned from verified skill development and 100% test scores.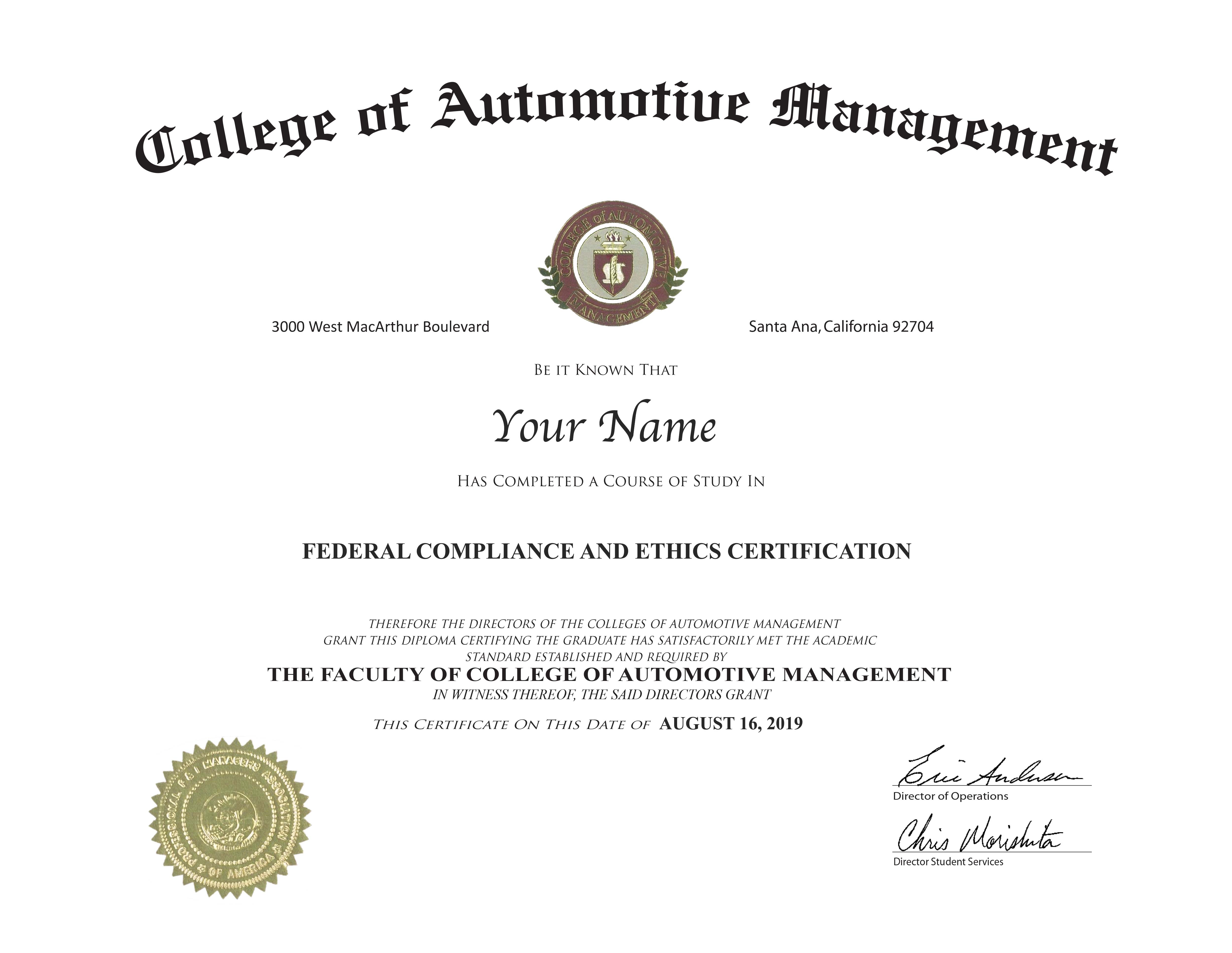 Reviews
"This course is excellent--Best Compliance training we've had. The 2 that stand out that I felt were inferior to yours was Zurich and the AFIP certification course. This course helps build trust."
Mike Schwartz, General Manager - Galpin Premier Automotive Group
"I have been involved with AFIP and JMA certification and find this certification the best in its delivery and presentation with content being better and increased retention of material. Appropriate for all dealership employees."
Brian Murphy (GM of F&I Operations), Sullivan Automotive Group
"Excellent Course. Very glad Bert and the Boeckmann Family authorized this course for the dealership. While most of the information is material I knew from training I have received over the years at Galpin Ford, there was also material I was unaware of. I found it productive and comprehensive. I would recommend it to anyone in the business."
Jon B., Used Car Sales Manager, Galpin Ford
"This course Compliance and Ethics has already been beneficial to my career. This will protect the dealership and importantly promote a friendly environment that will grow. Yes (I've taken other compliance courses), Auto Advisory, This course has been far superior and far more detailed. Excellent Rating, All around. "
Sonny Baldassanno, General Sales Manager, Pacific Volkswagen
"Compliance and Ethics is an excellent course; the course material is great and the videos help keep it interesting. I did a compliance training with JM&A in Florida. Very similar, great content, only they didn't show video clips to help really bring home the point. Overall, Good Rating. "
Trent Turner, Finance Manager, Audi Pacific
"Compliance & Ethics, Excellent. It opened my eyes to a lot of areas of opportunity to always get better and evolve in the car industry. It's helped me try to build a more desirable image for myself and for my dealership. I did (compliance) at JM&A. This is more in-depth analysis with real world situations. The other course was just reading through the regulations. "
Berdj Hakverdian, F&I Manager, Pacific Volkswagen
"Excellent, very informative. The course taught me additional compliance and ethics that I can implement in our day to day business, allowing me to protect myself, my employer, and the customer. JM&A was similar but geared more towards Finance and Insurance, this course was more full spectrum and more informative. Excellent, Very Informative. "
George Dunbar, Sales Manager, Pacific Volkswagen
"This Course of Compliance and Ethics is Excellent. While giving the basic compliance that needs to be adhered to it also reminds us of the human factor. My last dealership that I was at for 10 years impressed the importance of ethics and had constant training through KPA (I believe this was the name of the program). This program basically the same but the way this is set up seems to be a smoother way to go through it. Excellent Rating."
Steven Majick, Sales Manager, Subaru Pacific
"The Compliance and Ethics course is excellent, especially the videos. The course gives you the knowledge necessary to build trust with clients and do the right things involved with the laws and regulations established by the DMV, state and federal governments. This will allow me to save the company money by avoiding lawsuits... I have had this training before with online and formal training in a classroom and by outside companies... Everyone was different but this one was by far the best because of how comprehensive it was and how much information it covered in one course."
Lee Maehlman, Sales Manager, Subaru Pacific
"This course Compliance and Ethics is a good course. This course makes me more confident. It allows me to answer questions that arise throughout the year or that other members of the dealership may not know. I am confident already in my knowledge, this supplements it. I took the Association of Finance and Insurance Professionals (AFIP) course last year. That was extremely hard to get through as information was just read out loud to us and we were supposed to read a book and learn it all on our own. This is more interactive and helpful."
Fred Simon, Fleet/Finance Manager, Toyota of Hollywood
"This program offers a clear breakdown of the critical regulations that will help me be the best employee that I can be. I have renewed my knowledge of how to address new and used vehicles, the contracts, credit applications, forms of sales, certificates, DMV records, and legal agreements. This program shows that customer-employee relations are the foundation of a successful business. I received similar training in this subject before... this program was insightful, clear, and useful. I would give this program excellent ratings."
Haim Bushy, F&I Manager, Toyota of Hollywood
"The Compliance and Ethics course was excellent training. Highly recommend - very detailed and practical. I have had training and 2 day courses for ethical behavior with the association of finance and insurance professionals (AFIP). This course was more detail and was not necessary to go to a two days class."
Hassan Movahedzadeh, F&I Manager, Toyota of Santa Monica
"I've learned a lot about what's compliant and what's not. This course was easy to read and understand. Also, the topics were well broken down. I had different training two years ago and it wasn't an online course. This online course is much better. I give this course an excellent rating. "
Kevin Lee, Finance Manager, Toyota of Hollywood
"I rate this as excellent. The material was engaging and concise and user-friendly. When F&I Managers are aware of compliance laws it allows a speedier paperwork process which in turn leads to better customer satisfaction. Good CSI, leads, referrals, repeat business and happy customers. I trained with AFIP it was boring, not engaging and I did not learn as much. They focused on things that were not part of the day to day responsibilities. I do not think that the two compare as this training is hands down better."
Anonymous, F&I Manager, Volkswagen of Santa Monica
More information
We recommend that all students (and dealerships) begin with compliance and ethics training for several reasons. A commitment to compliance and ethics is the foundation upon which successful skills, processes and strategies are built. Protecting the dealer and each employee from claims due to ignorance, or even willful misconduct, is something we encourage everyone to take seriously. Dealers who provide comprehensive compliance training to all employees, with testing, are less likely to be liable for punitive damages or major lawsuits. By also providing Ethics training with Compliance training, employees learn what they CAN do to increase business while staying compliant.

It Pays to Be Ethical and Compliant!

Employees don't always see the financial benefit of being compliant and ethical. They may sometimes think they can make more money if they are not 100% transparent, honest, and forthright with their customers.

In the compliance and ethics course, dealership employees learn how and why they will ultimately be more successful, make more money, obtain more referrals and repeat customers, as well as have less stress at work when they use ethical sales processes.

This Compliance Training Is Comprehensive and for All Departments!

This compliance and ethics training is the most comprehensive training of its kind for salespeople, desk managers and F&I managers, including compliance issues relating to special finance and digital marketing. Our compliance and ethics training includes topics for salespeople and desk managers such as do not call rules, privacy policies and payment packing, in addition to F&I compliance and ethics training.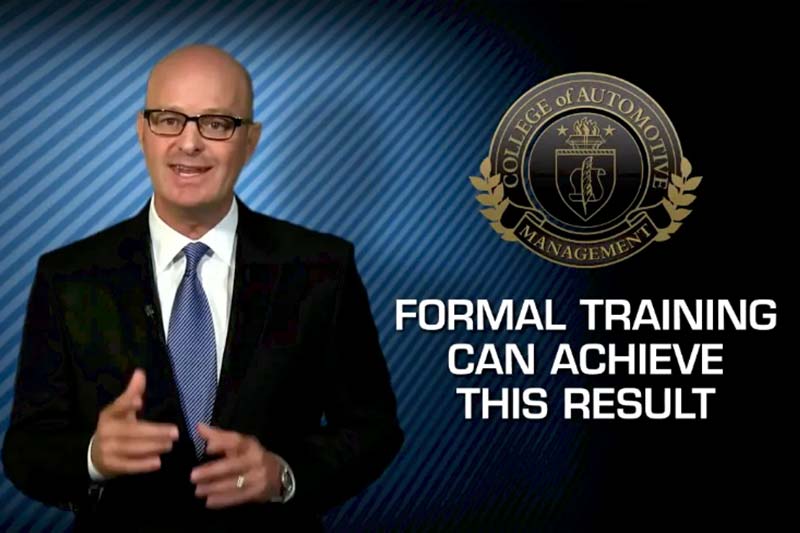 Purchase