Increase your influence, advance your career, and increase your income with leadership skills that work in any environment
Everyone (salespeople and managers alike) can be a leader. Why not choose to lead?
Leaders are encouraged to first "manage themselves" to greater results, set personal goals and then see them through as examples for others to follow.
Students are encouraged to praise often, inspect often and offer help when needed (serve others).
Leaders are encouraged to promote the success of others, promote teamwork and employee satisfaction.
Leaders learn how to hire, monitor, correct and terminate when necessary for the health of the team.
Graduates of this course earn certification in Leadership in Sales & Management
College of Automotive Management certificates are earned from verified skill development and 100% test scores.
Reviews
"Leadership in Sales & Management is excellent for the new manager, the seasoned manager, and the prospective manager. Experiencing the course has changed my mind in how managers need to b e trained. I'm a veteran of this very tough business. My original thought was, "what can I possibly learn? I know everything there is to know!" Leadership in Sales Management gets the student to think. I have actually gone back to individual lessons, printed them out and used them to train my team. This is a priceless collection of lessons for the businessman, the parent, and the game changer. I have already made so many changes to my own personal management technique. While I am an advocate of so many of the principles and doctrines of this course already, the details of real leadership have been re - defined in my mind. "
Joe Allis - Manager, Galpin Motors
"I am the GM. I think this was an excellent course. It helps remind me that our staff is a direct reflection of ourselves. And by always showing great leadership skills I can motivate my staff and let them know that I always support then in what they do right or wrong so we can all grow together as a team."
Allan Jose - General Manager, Aloha Kia
"COURSE LEADERSHIP AND THE SALES AND MANAGEMENT COURSES, ARE GREAT. I RATE IT EXCELLENT: THE USE OF MOTIVATION SKILLS AND COACHING SKILLS VERY HELPFUL IN DEVELOPING A SALES TEAM TO IT'S FULL POTENTIAL. LIKE I PREVIOUS ACKNOWLEDGED ABOUT MY EMPLOYER... HE IS CLEARLY VERY CONCERNED AND WILLING TO DO WHATEVER IT TAKES TO TAKE HIS DEALERSHIP TO THE NEXT LEVEL AND STAY AHEAD OF THE COMPETITORS IN THIS HIGHLY COMPETITIVE BUSINESS."
"I liked this course and I will take what I learned and implement in my daily activities here at work. I believe what we learned here today will better ourselves in our business and make us much more successful and profitable."
Josh Marquez, Coyne Powersports - Sales Manager
"I rate the Leadership in Sales and Management as an excellent coarse. My employer rocks!! And i truly believe this training will better me as a Sales Manager/person which in turn betters our business."
Corey Taft, Tipton Honda - Sales Manager
"Leadership in Sales and Management. Good course. I think that a leader doesn't say that he knows everything but demonstrates what he knows by jumping in and assisting whenever needed. This course has helped me to remember that assisting both the salesperson and customer greatly benefits all of us and helps to build the company up by creating a positive customer relationship and better more confident salesperson. "
Linda Payanal - F&I Manager
"I'm currently a Financial Consultant (finance manager) at Galpin Motors. The course was extremely clear and precise in the material provided for leadership skills. Therefore, this course receives an Excellent rating from me. The Leadership in Sales and Management course was refreshing, informative and provided great insight on how to manage a group of people."
Janet Lazar, Galpin Motors - F&I Manager
"Excellent, I rate this course very high. It has a lot of information on how to deal with everyday experience with your personal life as well as work. To be able to Identify ideas on how to overcome objections and deal with stress at work or home. "
Carlos Alfaro, Galpin Motors - F&I Manager
"I have recently been promoted to Internet Sales Manager. I would give this course Leadership in Sales & Management a rating of excellent. This course has benefited me and given me many good ideas on how to improve my sales team. It has made me do some self-reflection and see that in order for my team to grow I must grow as well. I will take a more hands-on approach because of this class. I will lay out standards that will be the guidelines to put everyone on the same page as to what is expected of the salespeople in the department. This will benefit the dealership by ensuring we have the right people in the right positions allowing them to thrive and the dealership to benefit from them."
Jonathan Burns, Boulevard Buick GMC- Internet Sales Manager
"As a sales manager, the course of Leadership in Sales & Management was an eye opener for me. It is a no BS way to achieve better performance and better trained people. This is an excellent course for the beginner and a refresher for experienced managers. It is precise and to the point on how to be more effective leaders and managers in our field."
John Marion - Sales Manager
"I would rate this course, Leadership in Sales & Management, as excellent training material and would highly recommend it to others. More effective coaching and teaching leads to a more effective sales team that can make the most of the opportunities that we already have. We can make more deals, with more gross per sale, higher closing ratios, better customer service, more referrals, more repeat business, faster negotiations, higher CSI, and better personal relationships with our customers."
Dennis Yamamoto - F&I Manager
"I am currently training with the F&I department, learning the dealership's F&I program. I was moved to this function from Straight/Floor Sales. I rate the Leadership in Sales and Management course an excellent one. The subjects covered are specific and presented in simple but very effective manner, easy to comprehend, and helpful in real life situations. I believe that handling these management problem scenarios utilizing the pointers from this course will result in very productive achievements. My management appreciates the fact that I took the initiative to study this F&I certification on my own volition at my own expense. This is one of the reasons why I have been moved from Floor to F&I. I have learned a lot to put into action where I am at right now. I would highly recommend this course to everyone."
Wilfred Solancho, Airport Marina Honda - Sales/F&I Hybrid
"Excellent rating for Leadership in Sales & management. I definitely think a dealership should offer this course to anyone going into management. It shows & teaches a different side of the business that is important to keep a happy workplace while still growing the company. Very solid course that teaches what to do in certain situations that are bound to come up as a manager. I strongly believe this course could help with turnover rates & creating happier employees."
John Dreyer, Jaguar Land-Rover - Internet Sales Manager
"I rate the course, Leadership in Sales & Management" as EXCELLENT. The course has been a "good look into myself" and towards others. It has given me the strength and confidence needed to make decisions, to help motivate others, to give praise when deserved and often, to know when to correct and to know when to replace. It has also reminded me that being a servant leader and to love others and to put others first is the key to success. It was thoughtful, motivating and inspiring. Thank you for that. My favorite line was to "count your blessings, not your troubles". If we could remind ourselves of this several times per day, I think we all would be in a better place in our lives. I know firsthand how this attitude has changed my life. "
Kari Schwear, Euroclassic Porsche - F&I Manager
"My position at my dealership is Floor manager /Internet Lead Director I was promoted for my skills on great communication and phone skills in my store, I was very impressed with this last course and it in depth information on how to be a professional manager. The course Leadership in Sales and Management was excellent. I was very excited about taking these classes, because I felt there was more to management than a title and those classes made a big difference in the way I handle myself in my position at my dealership now. I am always looking to expand my knowledge so I can do the best at my job and to be of service to my fellow man and this program has helped me do that."
Robert Thompson, Carbone Honda - Floor Manager
"Leadership in Sales & Management was Excellent Training Content. I would highly recommend to others. Every dealer should implement this training at their dealerships. It is very important to have proper leadership to grow the dealership from within. I have seen many dealers who have great management but poor leadership skills that hold them back from being great places to work. I would prefer to work for a dealer who uses this training over a dealer who does not any day. If you do not have great leadership your ship will stay anchored no matter how good the crew on board is."
Dan Trammil - F&I Manager
"I will rate the Leadership in Sales & Management course as Excellent. It's very simple, a leader is made and not only by experience, but a good leader will also investigate and try to learn new ways to be better and help everyone be better. This course will give you tools that if really internalized, they will help you become a good leader, to understand what a leader means and how to take the best out of your team. My employer will see the benefits of the Leadership in Sales & Management Course those days where I'm at the dealership by myself and they rely on my decisions and ability to face different types of situations. "
Pedro Mora Romero, I Drive Auto Sales - GM
"Excellent. Very good reminders of why I got into this business and how to cultivate future leaders of the business"
Mike Schwartz, Galpin Motors - GM
"I rate this course Leadership in Sales & Management as Excellent Training Content. I would highly recommend to others. This training has given me so much knowledge about being a leader, manager and coach. I have learned how to evaluate, train, coach and motivate a sells team. I've learned how to hire good sales people and when to fire low performers. I've learned how to set standards of performance and how to discipline those that are under performers. I really feel confident that when the opportunity to manage comes up I can hit the ground running."
Vincent Tolbert, Internet Sales Manager
"I am an Owner/Operator. Excellent Leadership in Sales and Management. I have been in sales and management in some form or fashion for over 20 years. This has been the most beneficial course I have ever taken. It was an excellent use of the time I invested as well as the money. If you apply this material in the manner suggested and with a true desire to help your customer, you will succeed. Excellent course!"
"Currently I work as a sales consultant at First Kia at Simi Valley. I rate this course (Leadership in Sales & Management) very high (Excellent) What I have learned is to be a different salesman and now I can be a great leader; this course gave me all the tools to deal with any situation. And trained me to deal with the Customers, to love them and make them a friend, and for the sales team, how to train them, how to set the standard for sales people, how to hire and fire. And manage and coach and use their talent. And work like a team and not to be a selfish Leader. I can see my improvement already. I am a top producer and had the highest gross profit this month. I was first place in June and again in August. (Leading the board!) I am closing more deals, and have a better closing ratio, holding more gross, have a very good CSI, and keeping my customer happy. I feel great. I've been selling cars for 14 years, but never felt this way before."
Sid Khan, Professional Salesperson
More information
Employees learn professional methods to hire, evaluate, train, coach, motivate and manage others. Veteran leaders consider Servant Leadership training to be a great use of their time and investment. Salespeople Learn that Everyone is in a Position to Lead by Serving Others Well! Employees learn how to communicate well with co-workers and supervisors and be thankful to Employers that invest in them!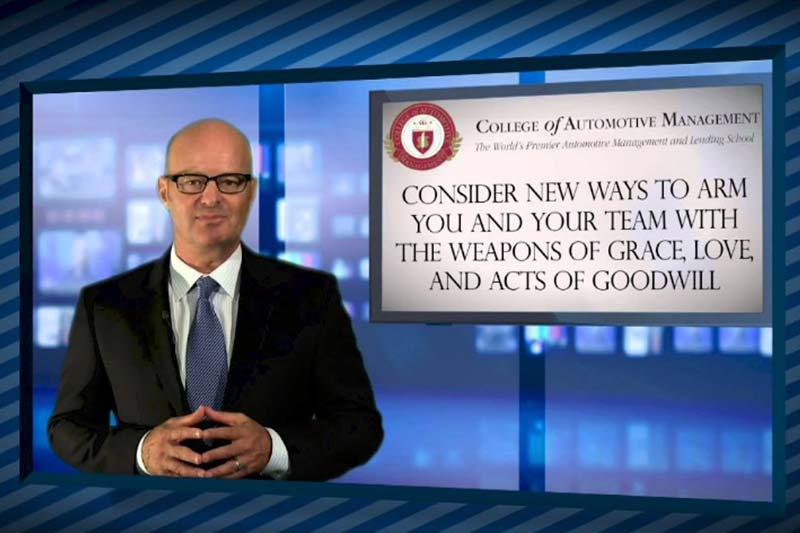 Purchase