Insurian, a nationwide provider of innovative debt cancellation products for lenders and dealers, has selected the College of Automotive Management to provide online product training to Dealers and Agents representing Insurian's products. The company offers best-in-class debt cancellation products developed from a consumer's point of view.
Insurian was founded in 2014 by Paul Budvitis after identifying gaps in the consumer protection product market. When difficult life circumstances occur, consumers take all the risk of payment default and negative equity which can severely damage their credit. Insurian set out to help solve this problem by creating the first and only Vehicle Return Plans (VRP) that could be purchased as stand-alone products at the time a loan or lease is originated. "Our founding value statement encompasses how we protect and put consumers first: 'Your vehicle comes with numerous safety features, so we thought your loan should, too!'" says Paul Budvitis, Insurian's founder and CEO.
Insurian's unique solutions give consumers peace of mind with long-term financial security if they run into hard times. In 2020, Insurian had great success putting their debt cancellation platform to work with the launch of their award-winning Hyundai Job Loss Protection Plan. This was a forward-thinking custom-designed program implemented at the onset of the COVID-19 economic crisis to instill confidence in the purchase of Hyundai automobiles at a time when the economy and world was in flux.
Insurian's product suite consisting of LifeGap™, LeaseWrap™, InsurianVRP™, and payment protection products is available across all transportation verticals: auto, RV, powersports, motorcycle, boats, commercial trucking, as well as OEMs, banks, credit unions, financial institutions, leasing companies, refinance lenders and motor clubs.
Major Benefits for Agents, Dealers, Financial Institutions and Consumers
Dealerships and financial institutions implementing Insurian's products experience several benefits such as increased profits, market differentiation, increased traffic, and improved lead conversion. Additionally, their sales teams are invigorated and customer loyalty, retention and referrals see significant improvements.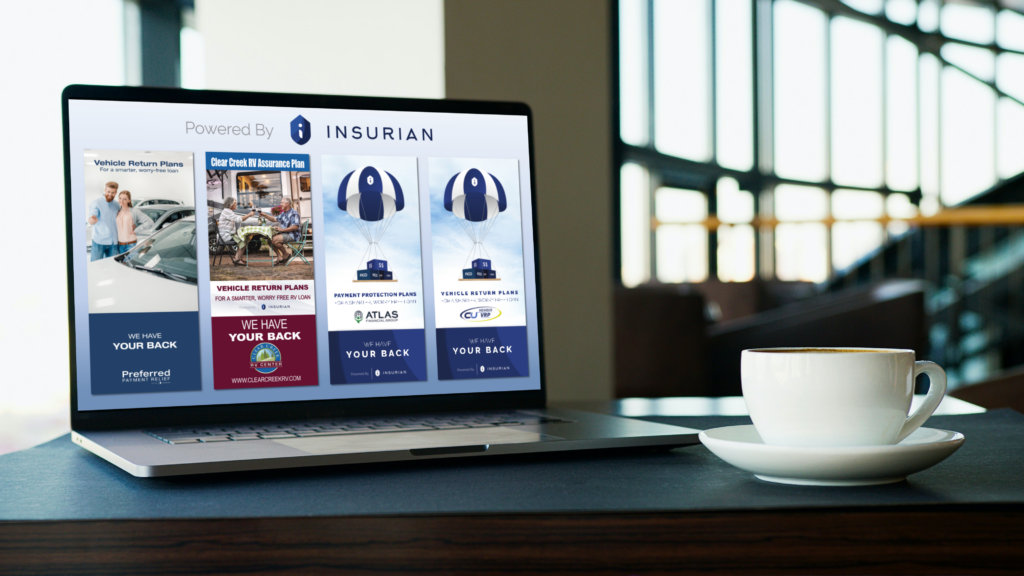 With inflation on the rise and uncertain economic times ahead, consumers need access to Insurian products now more than ever. Insurian is working with agent networks all over the nation to get their products into dealerships and financial institutions to be available to consumers as soon as possible. However, dealership employees need to know how to present Insurian's products in a legally compliant manner that consumers can easily understand.
That's why Insurian has partnered with the automotive training experts at the College of Automotive Management (CAM) to build legally compliant online product presentation training for dealership employees. By providing this kind of online training for dealership employees, desk managers, and finance managers, the agents representing Insurian's products can accomplish more installations quickly without having to personally present training each time.
A Proven Track Record of Success with Agents, Dealers and Financial Institutions
"The College of Automotive Management has a long history of excellence in automotive training, so engaging them to build out this essential training component for dealership installations was a no-brainer," says Budvitis. "This training frees up agents to get more dealerships onboard quickly so we can get these helpful products in the hands of consumers. Our agents are thrilled to have this resource, and those who know the level of quality training CAM offers are even more excited."
The College of Automotive Management was founded in 1992, and has graduated over 10,000 Sales and Finance professionals since that time. But in addition to its flagship training programs, CAM is always looking for new ways to meet industry training needs. One such way the College is doing this currently is by addressing needs brought on by the COVID-19 Pandemic.
Post-COVID business requires salespeople and dealerships to earn the business of customers and to develop, once again, superior relationship-building skills. Therefore, CAM recently released four short sales courses designed to help dealership Salespeople have greater levels of success and earn higher incomes:
365-Day Business Plan to Work by Appointment Only
Managing Customer Expectations and Common Objections
Managing Phone Conversations
Lifetime Selling Strategies
These short courses are CAM's fast and easy solution for this need. Each of these courses can be completed in less than one week online, and each offers valuable tools to help salespeople close more deals, ensure customer satisfaction, and increase profits through smart and effective relationship selling strategies.
"As a former corporate trainer, the quality of CAM's training never ceases to amaze me," says Kathy Diane, Director of Corporate Relations at the College. "The Dealerships that offer this training to their employees are seeing huge returns, and are enjoying better employee retention. There is absolutely no reason Dealers shouldn't offer CAM training to their employees. It just makes sense."
Customizable Solutions, Private-Labeled for Agents, Dealers and Financial Institutions
CAM offers subscriptions whereby dealers and Financial Institutions can select a la carte courses or full certification programs to offer their employees to help them increase their incomes and advance in their careers. All selected courses are then loaded onto a private-labeled SOAR LMSi platform that's completely branded to the agency, dealership or financial institution. For dealerships that offer Insurian products, training for those products are also included at no charge. Managers can easily track employees' progress in the course content through their customizable dashboards and real-time notifications, allowing them to engage with employees in a quick and timely manner. The benefits of the training combined with a SOAR LMSi are almost endless.
To learn more about Insurian and their products, visit https://insurian.com/.
To learn more about CAM's online sales and finance training options, visit https://collegeofautomotive.com/dealership-training/
To learn more about private-labeled SOAR LMSi platforms, visit https://www.SOARLMSi.com/